We took our time getting to Taidong Street. For once, by design, and on our last day in China, we are in no rush.
We browsed a few stores, chatted with a friendly store owner, and told her
how we found our relatives
. She got goose bumps and started rubbing her arms, prompting Mom to do the same. It WAS an amazing story! I still can't believe it myself.
She also gave us the scoop on real estate in Qingdao. Homes in the commercial district start at 10000 RMB per ping; 40000 RMB per ping in the area where we are staying. Both she and Johnny used 100 pings as a benchmark for the average home size, good to know.
We finally got to the Taidong shopping district and thought... WOW. It's much like Ximending in Taipei but bigger and nicer in every way.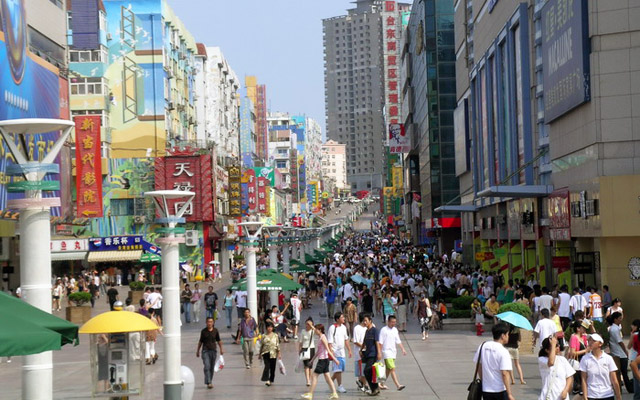 We made our way to 三合園 for the much anticipated dumplings. We had to wait for a table even though it was well after 1pm! But it did not disappoint. The dumplings... were... delicious!
I was grateful to the old men from earlier this morning who pointed us here. Lots of nice people in Qingdao.
This cold noodle dish was really good too.
Several patrons were eating it so I asked a young couple what it was on the menu. It's very similar to the liang mian in Taipei. Here though it's made with rice noodles and is much thicker.
After lunch we were so tempted to stick around and SHOP. We had yet to do any shopping! But if we wanted to see the Beer Museum, we had to get going.
Beer Street is lined with outdoor beer gardens for half a mile! Can you imagine what that place must be like at night?!
The Beer Museum was cool to see, and our private tour guide was very sweet. (There I go rhyming again... ) She made us wear headsets in case we got separated since there were other large tour groups speaking different languages.
Here is Mom pretending to be drunk:
Our tour guide tried not to laugh, but I could hear her loud and clear through my headset. Mom left quite an impression with all of our tour guides!
Afterwards, I said, "Mom, you've never been drunk before, have you." It was more of a statement than a question.
At the end of the tour, we got to sample two glasses of beer - one unfiltered and the other filtered. It's a fun tour although WATCH OUT for those crazy Chinese tourists! We almost got run over!
Wait... what am I saying?
Next on our agenda was to visit
Ba Da Guan
, but alas - no cabs! While we asked one of the security guards which bus to take, a young man happened to walk by, heard the conversation, and offered to walk us to the bus stop.
What a super nice guy! He reminded us both of
Iwen
.
We learned that he was from Harbin and that he moved here for a girl who was with her family today. That explains why he was by himself on Mid-Autumn Festival. In hindsight, we should have invited him to go with us to Ba Da Guan!
Anyway, Mom and I then saw a cab whiz by (HEY!), decided to take our chances and wait for another, and thanked the fellow. He went on his way while we waited. And waited. And waited. Ten minutes later, someone tapped me on the shoulder and kindly said, "姊... ?"
It was him! Iwen's twin from Harbin came back to check on us and offered again to take us to the bus stop.
How very sweet of him... ! WOW.
Eventually we got to Ba Da Guan, rented a tandem bike - they are everywhere! - and wobbled up and down the streets for an hour because our bike was in bad shape. We probably should have gone back and gotten a better one, but whatever.
It was still fun! I'm just glad that we made it back in one piece!
The story continues...